| | | | |
| --- | --- | --- | --- |
| One Venue...Two Evenings: Middle Distance Series & Shot Put Masterclass @ Carmarthen | | | |
Written by Nathan Jones
Wednesday, 30 May 2018 19:40
The Carmarthen Athletics Track in Johnstown welcomed two midweek events on Tuesday & Wednesday (29-30), attracting middle distance athletes and throwers from across South Wales during the half term week.
Rescheduled following the wintry weather conditions back at the end of February, around 30 of Wales' young future throwers from several clubs gathered in Carmarthen on Tuesday evening, 29th May for a "Shot put Master class" evening with coach and Wales Commonwealth Games athlete Ryan Spencer Jones.
The West Wales region, arranged by Club Network Officer Andrew Lloyd-Hughes and Ralph Siggery, were delighted to be able to put the evening on at the Leisure Centre facility with support from Ryan's wealth of experience.
It was aimed at benefiting both coaches and athletes and looked at how athletes and coaches can enhance performance in particular in the area of throw velocity. It was an excellent opportunity during the hour and half session for any shot putters in the West region and their coaches to meet Ryan, participate in a session and discuss with other coaches how best to develop athletes in the sport.
Spencer Jones was joined by one of his athletes, Lucy Griffiths from Pembrokeshire who was on hand to demonstrate a number of techniques and to offer additional support to the youngsters in attendance ranging in a number of different age categories.
The session touched on drills and specific movements that are used by some of the top throws and movement coaches in the world. The evening concluded with all the athletes getting a few throws each, watched on by the Commonwealth star that also provided useful advice in their development.
Spencer Jones, also Club Network Officer & Development and National Throws Coordinator for Welsh Athletics, commented: "The aim of the evening was to share my thoughts and philosophy around the event to local coaches and athletes. The main aim was to inspire the athletes, to motivate them to pursue throwing long term and make it enjoyable especially with such high numbers."
"The evening was a success with over 30 athletes and many coaches observing. The interaction was great and the athletes listened to each suggestion and description. With committed local coaches from Carmarthen and surrounding areas in attendance, they were able to take away what they wanted from session. Coaches must continually aim to source new information and methods to help develop a wide range of athletes."
"The true measure of whether the evening was a success will be the amount of athletes continuing to pursue throwing and the coaches putting any positives into action."
Following the success of the shot put master class, It is hoped that this will lead towards many more of these specific event masterclasses in the months to come across all four regions in Wales.
24 hours later on a cloudier but dry and ideal evening with a light wind, it was all eyes on the track as the Welsh Athletics team headed down to Carmarthen for the second fixture of the new middle distance series, brought in for the first time this year on the focus of open events.
Welsh Athletics were pleased to announce a number of new event specific open meeting throughout the summer and alongside the RunWithTheWind Sprints Open as well as our Carmarthen Throws Open Meetings at the end of every month, the Middle Distance Series was an addition in 2018 for those who specialise in distance running.
After holding the first event at the new Cardiff Metropolitan University track at the end of April, Carmarthen was the venue for this latest series meeting on Wednesday evening, 30th May.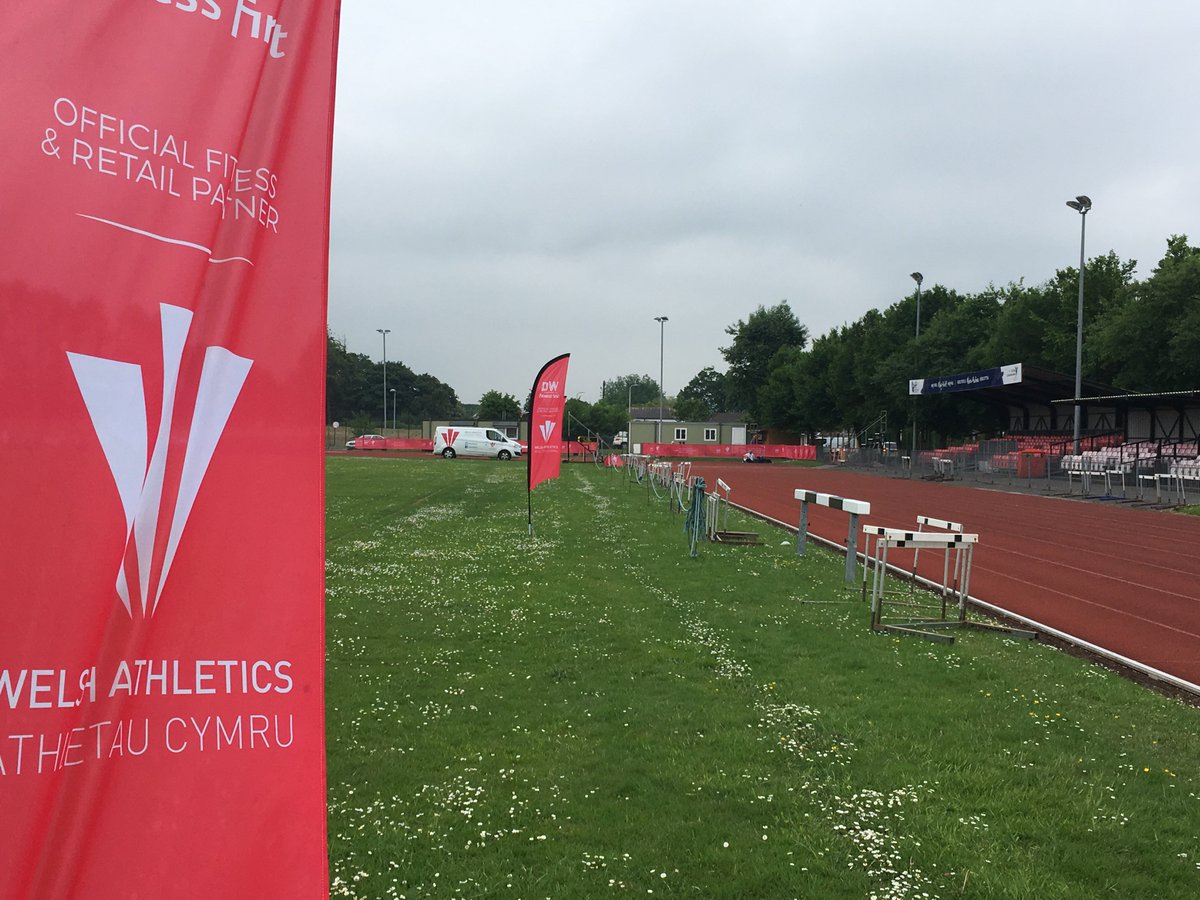 As with all open meetings by now across Wales, they provide developing athletes with graded competitions and a shared experience with like-minded athletes and individuals. Seeded differently to on best times, athletes in the younger age groups trying it out for the first time were able to test themselves and race next to runners in age groups above them.
Welsh Clubs entered and represented on the evening included: Swansea Harriers, Cardiff AAC, Neath Harriers, Carmarthen Harriers, Aberdare VAAC, Llanelli AC, Cardiff Archers, Pembrokeshire Harriers, Rhondda AAC, Rhymney Valley AC, Newport Harriers and Bridgend AC, as well as those further afield: Bracknell AC, Worcester AC, Bromsgrove and Redditch & Independent Intelligent Fitness.
Despite the half term holidays, the action came thick and fast with a number of good performances throughout. All of the 800m and 1500m races had pacers which resulted in ideal opportunities for athletes to gain new personal bests. The support from coaches and parents on the outfield of the track helped many achieve their new best time with nearly 40 of the athletes involved coming away with a new PB (total 39 + 1 =pb)! Pacers Joe Thomas (Cardiff AAC); Alex Coomber (Cardiff AAC); Jacob Reynolds (Cardiff AAC) and Ben Reynolds (Cardiff AAC) also gave great support.
Da iawn i bawb wnaeth gymryd rhan a gobeithio wnaethoch mwynhau eich ymweliad i Gaerfyrddin Nos Fercher! Well done to all that took part and we hope that you enjoyed your visit to Carmarthen on Wednesday Evening! Thanks to all the volunteers.
The fourth and final series open of the 2018 summer season will be up at the Newport Athletics Stadium on 1st August while there will be another event TBC at venue TBC.
800m Heat 1: 1 Guy Smith (Swansea Harriers) 1.52.1; 2 Benjamin Reynolds (Cardiff AAC) 1.56.2; 3 Iestyn Williams (Carmarthen Harriers) 1.56.9; 4 Oli Lum (Bracknell AC) 1.58.9; 5 Sebastian Lewis (Neath Harriers) 1.59.9; 6 Morgan James (Cardiff AAC) 2.00.4
800m Heat 2: 1 Jacob Reynolds (Cardiff AAC) 2.01.0; 2 Owain Edwards (Cardiff AAC) 2.01.4; 3 Lewis Sternkopf (Worcester AC) 2.01.9; 4 Liam Griffiths (Aberdare VAAC) 2.01.9; 5 Charlie Holland (Swansea Harriers) 2.02.5; 6 Matthew Richards (Swansea Harriers) 2.02.6
800m Heat 3: 1 Trystan Leech (Carmarthen Harriers) 2.02.3; 2 Thomas Callard (Neath Harriers) 2.03.8; 3 Paul Clarke (Carmarthen Harriers) 2.04.0; 4 Seth Kelly (Cardiff AAC) 2.04.4; 5 Liam Edwards (Carmarthen Harriers) 2.05.3
800m Heat 4: 2 Iwan Smith (Cardiff AAC) 2.11.1; 2 Nia Riley (Cardiff Archers) 2.15.4; 3 Leah Bitchell (Cardiff AAC) 2.16.7; 4 Ben Hughes (Cardiff AAC) 2.23.2; 5 Lucy Davies (Pembrokeshire Harriers) 2.25.9
800m Heat 5: 1 Dafydd Waters (Carmarthen Harriers) 2.15.8; 2 Carwyn Hastings (Cardiff AAC) 2.19.3; 3 Jac Hockenhull (Cardiff AAC) 2.19.3; 4 Olivia Roderick (Independent Intelligent Fitness) 2.24.2; 5 Darcie Bass (Swansea Harriers) 2.25.2; 6 Eden Williams (Cardiff AAC) 2.34.0
800m Heat 6: 1 Elis Finlayson (Cardiff AAC) 2.23.3; 2 Seren Allin (Cardiff AAC) 2.25.3; 3 Jemima Robinson (Cardiff AAC) 2.28.2; 4 Rachel Davies (Swansea Harriers) 2.28.3; 5 Lewis Jacobs (Rhondda AAC) 2.30.6
800m Heat 7: 1 Ieuan Griffiths (Llanelli AC) 2.24.2; 2 Macsen Toogood (Carmarthen Harriers) 2.28.1; 3 Kiera Griffiths (Aberdare VAAC) 2.28.4; 4 Lucy Wintle (Pembrokeshire Harriers) 2.29.4; 5 Llinos Jones (Swansea Harriers) 2.30.4; 6 Elen James (Cardiff AAC) 2.41.2
800m Heat 8: 1 Esme Ranger (Bromsgrove and Redditch) 2.32.1; 2 Abbie Hall (Swansea Harriers) 2.32.9; 3 Amy Tucker (Llanelli AC) 2.34.2; 4 Bethan Adams (Llanelli AC) 2.35.6; 5 Rhys Blow (Aberdare VAAC) 2.38.1
800m Heat 9: 1 Emily Dent (Cardiff Archers) 2.36.2; 2 Maddy James (Pembrokeshire Harriers) 2.37.8; 3 Amelie Ranger (Bromsgrove and Redditch) 2.43.8; 4 Alice Davies (Cardiff AAC) 2.45.4; 5 Freya Hughes-Rolls (Rhymney Valley AC) 2.48.0; 6 Megan Hastings (Cardiff AAC) 2.55.0
1500m Heat 1: 1 Jac Smith (Cardiff AAC) 4.02.7; 2 Dafydd Jay (Swansea Harriers) 4.16.9; 3 Adam Beer (Llanelli AC) 4.17.3; 4 Dafydd Jones (Carmarthen Harriers) 4.18.8; 5 Martin Powell (Swansea Harriers) 4.38.8; 6 Osian Tyrrell (Cardiff AAC) 4.46.3; 7 Caitlin Gwyther (Swansea Harriers) 4.46.6
1500m Heat 2: 1 Moli Lyons (Cardiff AAC) 4.54.7; 2 Vicky Jackson (Swansea Harriers) 4.56.4; 3 Rhys Llewellyn (Pembrokeshire Harriers) 5.01.1; 4 Lucy Omnet (Pembrokeshire Harriers) 5.03.5; 5 Mark White (Swansea Harriers) 5.03.5; 6 Alice Evans (Pembrokeshire Harriers) 5.04.0; 7 Mia Goddard (Cardiff AAC) 5.12.2; 8 Scott Price (Carmarthen Harriers) 5.16.9; 9 Ellie Robinson (Newport Harriers) 5.23.4
1500m Heat 3: 1 Aled Tumelty (Swansea Harriers) 5.07.6; 2 Kasia Cook (Pembrokeshire Harriers) 5.09.0; 3 Jack Thomas (Carmarthen Harriers) 5.10.3; 4 Iwan Wilson (Llanelli AC) 5.23.8; 5 Mai Davies (Swansea Harriers) 5.27.8; 6 Chloe Hale (Carmarthen Harriers) 5.28.2; 7 Gracie Griffiths (Pembrokeshire Harriers) 5.34.0; 8 Amy Greatrick (Carmarthen Harriers) 5.35.3