| | | | |
| --- | --- | --- | --- |
| Athlete Profile: Carmarthenshire teenager set to go head to head with the World's Best @ European U18 Youth Championships | | | |
Written by Nathan Jones
Sunday, 01 July 2018 16:00
After years of hard work on and off the running track, a Carmarthenshire teenager is about to wear the Great Britain vest for the very first time at the European U18 Youth Championships, taking place in Gyor, Hungary at the end of this week (July 5th, 6th, 7th and 8th).
Ar ol blynyddoedd o waith caled ar y trac rhedeg, mae un o athletwyr Sir Gaerfyrddin ar fin gwisgo fest tim Prydain am y tro cyntaf ym Mhencampwriaeth Ieuenctid Ewrop o Dan 18, a gynhelir yn Gyor, Hwngari ar ddiwedd yr wythnos hon (Gorffennaf 5ed, 6ed, 7fed ar 8fed).
Ben Thomas (Neil Thomas), a sixth form pupil at Ysgol Y Strade Comprehensive School in Pwll, Llanelli will go from competing for his local Llanelli and Carmarthen clubs in league matches and Welsh International to picking up his debut selection for Team GB, who head out to Hungary on Monday ahead of the championships which begins on Wednesday 4th July. The British Athletics team of male and female consisting of thirty-three runners, throwers and jumpers was announced last week.
In his steeplechase event, he did not run an European qualifying time once, not twice but a total of three times in a short period of time. Back in the middle of May, he headed to the BMC Grand Prix event at SportCity in Manchester where he ran a 5.57.89 followed by 5.57.81 at the BMC PB Classic in Milton Keynes at the beginning of June. Not only did Thomas make a name for himself those evenings, but also broke the Carmarthen Harriers club records held previously. Selection for the upcoming championships was sealed having run another sub 6 minutes of 5.59.70 at the England Athletics U20/23 Championships in Bedford just a few weeks ago having taken a comfortable victory that afternoon.
In Hungary, Ben will be in action in the 2,000m Steeplechase on FRIDAY 6TH JULY AT 20:03. (Final Sunday 8th July 18:35). TV Coverage will be broadcasted on the Eurosport channel. (Sky Box Channel 410/411) and online at www.eurovisionsports.tv
Ben first started running 8 years ago at the age of 9 in 2011 at Llanelli AC in Pemberton having played rugby and cycled prior to that. His first ParkRun event came over at Llyn Llech Owain in Gorslas, Carmarthenshire.
He then joined Carmarthen Harriers during the 2013 year before deciding to start doing steeplechase running three years later in May 2016. Within two years of jumping over the first barrier, he now looks forward to representing Great Britain on the big stage in front of a worldwide audience.
Some of his fine achievements to date in the 1500m & 2000m distances in this technical event includes all of the following: 1st in the Under 18's English Championships Carmarthen Harriers Club Record in the Under 17's 1500m Steeplechase & Under 20's 2000m Steeplechase, 1st Under 20's Welsh Schools Athletics Association Inter Schools' Cross Country Championships in 2017, 2nd Under 17 SIAB Schools International (Wales, England, Scotland and Ireland) as well as Team Captain, 2nd Under 17 English Athletics Championships, 2nd Under 18 Celtic Games (Wales, Scotland and Ireland), 1st Under 17 Welsh Schools Steeplechase and 1st Under 17 Welsh Athletics Road Mile Championships 2017. On several occasions, Thomas has also represented Welsh Schools Athletics Association Under 17 in both the London Mini Marathon and SIAB Schools International Cross Country!
Earlier in February at the Ffwrnes Theatre in Llanelli, he was crowned the winner of the 2017 Young Sportsman of the Year Award at the Carmarthenshire Sports Personality Awards.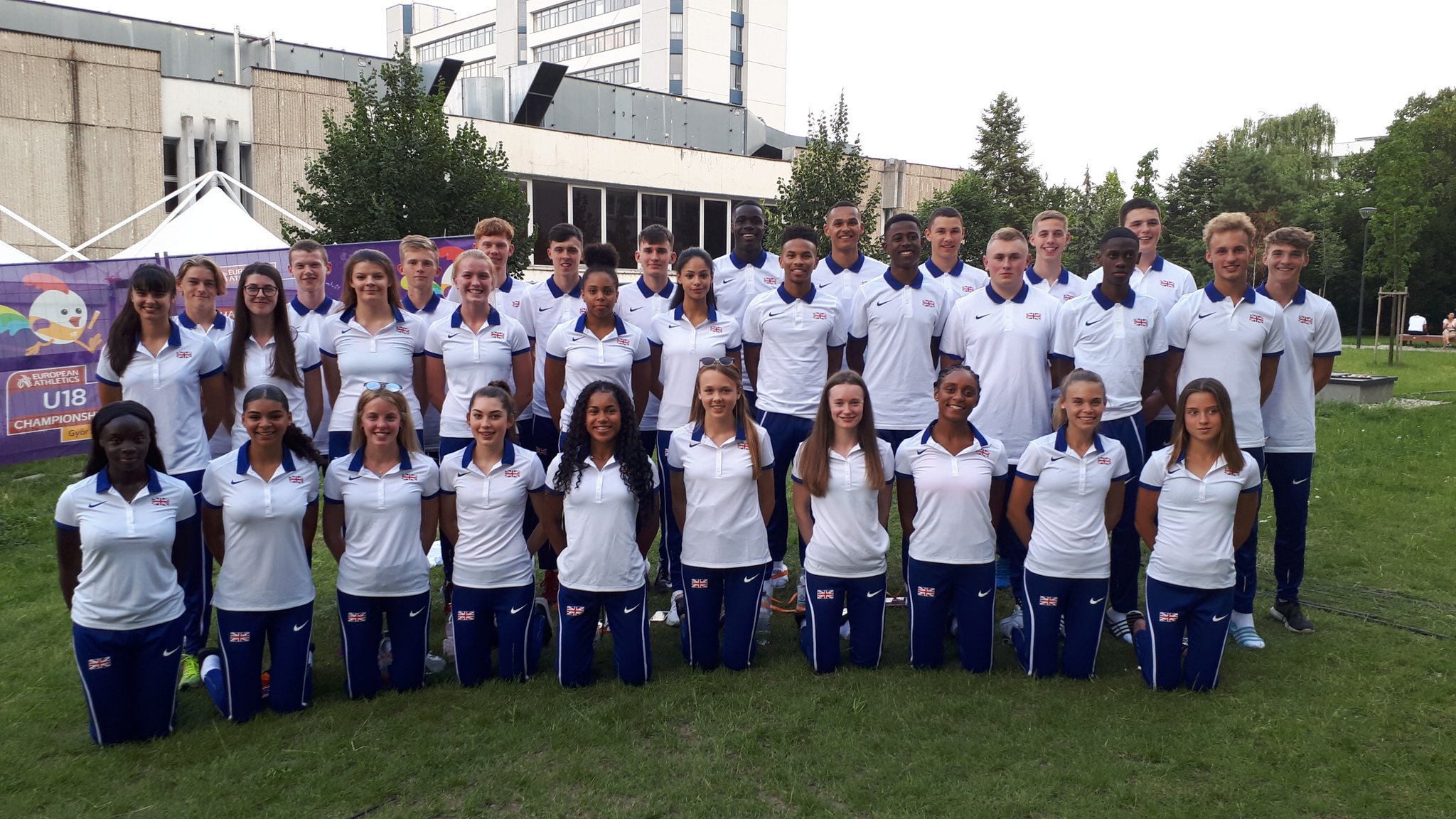 Before the squad set off out to Hungary (departing on Monday 2nd July), we caught up with Ben ahead of the championships and how preparations have been going since that day in Bedford earlier this month.
NJ - Nathan Jones; BT - Ben Thomas
NJ: How did you feel on hearing the news that you had been selected for the European U18 Youth Championships?
BT: Relieved! I had run the European qualifying time three times and had won the Under 18's 2,000m steeplechase at the England Athletics Championships so had done all I could do to get selected. But only 33 were going to be selected overall for the GB Team so you never know as the age group for track and field is very strong.
NJ: How did you get into steeplechase running?
BT: Just thought I'd give it a go! I was at a Youth Development League meeting in Newport and no one in the team was doing it so thought I'd have a go at it. Fortunately, the coach and assistant coaches who help me in Carmarthen Harriers have a background in steeplechase and hurdling so have adapted my training as I've progressed over the 'chase.
NJ: Have you been pleased with your recent performances, in particular the last trial race at the England Athletics U20/23 Championships (Bedford) a few weeks ago?
BT: The British Milers Club Grand Prix in Sportcity in Manchester was a major turning point. I knew I could run the qualifying time but not by 8 seconds. To do it again at the BMC meeting in Milton Keynes confirmed my form and technically it was a much better race. Bedford was very important, as it was the last head to head competition prior to European selection. I knew I had to win in Bedford as this was the last chance to run the qualifying time and race against my main rivals. I think my coach was more nervous than me!
NJ: How has the preparations and training been going recently ahead of the championships?
BT: Really well. I had an excellent block of warm weather training in Portugal which, on the back of a good winter's preparations, has set me up for the summer. I have had a series of races planned and times I have run have reflected my form in training. This last week has seen the finishing touches put in place. I am currently doing the UK Athletics Athlete Academy in Sporting Excellence diploma and the expertise of the staff there have helped me in my final preparations.
NJ: What are you most looking forward to out in Hungary next week?
BT: Getting on the track and competing for the first time in a GB vest. I need to contain my excitement a bit!
NJ: For younger athletes hoping to represent Great Britain one day, what advice would you give to help them achieve their goal?
BT: Train consistently and ensure that your training is planned and progressive.
NJ: Looking ahead to next year and the future, what are you hoping to achieve next?
BT: Next year the steeplechase distance is increasing to 3,000m for championship races so I need to slowly increase the mileage and improve the conditioning I do during the winter. Cross Country will no doubt be an important part of that but I am fortunate that I have Pembrey Country Park on my doorstep which is an ideal training base. This will hopefully provide the foundations to run faster in order to gain more representative honours for both Wales and Great Britain. Also I would like to push on to try and achieve a top three placing on the Welsh all-time list in the Under 20 2,000m steeplechase.
Ben will be joined by fellow Welsh Athletics athlete - Kiara Frizelle (Chris Jones, Cardiff AAC) who will take to the start line in the women's 3000 metres race.
British Athletics Team Leader, Femi Akinsanya commented: "The U18 age group is incredibly competitive in the country this season and we are very pleased to have selected such a strong squad of athletes. It is a great opportunity for these young athletes to compete on the international stage and I'm excited to see how they perform on this stage and what they can learn from their experience."
According to the preliminary entries, 998 athletes (463 men and 535 women) representing 48 Member Federations are due to compete at the second edition of the European Athletics U18 Championships. The competition will be held at the Radnoti Street Sports Centre and the city itself, which is Hungary's sixth largest by population, will provide a splendid backdrop to the championships.
The opening ceremony will be held on Wednesday 4th July (20:00) at the Dunakapu Square in the centre of Gyor before the action gets underway on the track and in the field on Thursday morning at 10am. The days will split into two parts with morning and evening sessions on Thursday 5th, Friday 6th, Saturday 7th and Sunday 8th. You can find a timetable by CLICKING HERE of when everything is on.
After four great days of racing expected, the final events will conclude the 2018 and its second edition on Sunday evening 8th July (21:00) then it's the Closing Party at the Uni Campus (22:00)
POB LWC BEN A THIM PRYDAIN YN HWNGARI AR DDIWEDD YR WYTHNOS! ENJOY THE EXPERIENCE!