It wasn't all about the 13.1 mile Cardiff Half Marathon however, as a number of fun races and street activities was available on an entire day of Saturday 6th October for those there making the most of the full weekend to enjoy.
As a warm up for the main event, a new series of 3K races took place this year on a multi-lap loop of Cardiff Civic Centre, replacing the Welsh Mile races offered over recent years. There were races for the Under 13, Under 15, Under 17 and Under 20's. In particular in the mile races, the engrossing competition was brilliant to watch last year and always resulted in close finishes and fast times.
There were some great results in the under 13 boys' 3K in particular with the Harriers youngsters filling second, third and fourth respectively. Iwan Thomas came second with Jake Lynock completing the podium positions. Steffan Davies made it three in four with a fourth place finish.
After watching his younger brother take second earlier on in the day, British Athlete Ben Thomas dominated the under 20 men's race to win and round off a great few months. Esme Lynock took part in the Family Fun Run and taking a high place finish. Results for these races is to come later on in the week.
Saturday's programme also included a Toddler Dash, Mascot Race and the Cardiff University Family Fun Run which sold out in advance of the day.
All eyes of the world was then on Cardiff on Sunday morning 7th October as the Cardiff University Cardiff Half Marathon made a return. The 2018 edition saw 25,000 runners cross the start line outside Cardiff Castle and run the 13.1 mile route around the Welsh Capital at a special 15th anniversary edition of Wales' largest mass participation event. It included the Commonwealth Half Marathon Championships.
Once again, it attracted the World's best elite athletes from all corners of the world with teams from Wales, England, Northern Ireland, Scotland, South Africa, Kenya, Australia, New Zeland, Uganda and Ghana just to name a few.
Broadcasted live on BBC Wales Television, the flat, fast, iconic Cardiff University Cardiff Half Marathon started outside Cardiff Castle and runners then headed down past Cardiff City Stadium on the way to Penarth. They took in Penarth Marina before crossing the barrage and heading to Cardiff Bay. Runners ran right through the heart of the bay taking in the Norwegian Church and Wales Millenium Centre.
The course then went towards the North of the City and runners completed a loop of the beautiful Roath Park before the grandstand finish in the heart of the City at the Civic Centre.
In an event won by the Australian Jack Rayner in 1:00:59, just shy of the record set in 2017, Our former members and Wales stars Dewi Griffiths (1:02:54) and Josh Griffiths (1:05:05) led the Wales team in front of the home crowds in ninth.
Griffiths told BBC Wales at the finish: "It was fantastic for Cardiff and there was the extra incentive of competing in an international vest and representing your country."
"I would have loved to have been more competitive out there but it is great for Cardiff to have such a race."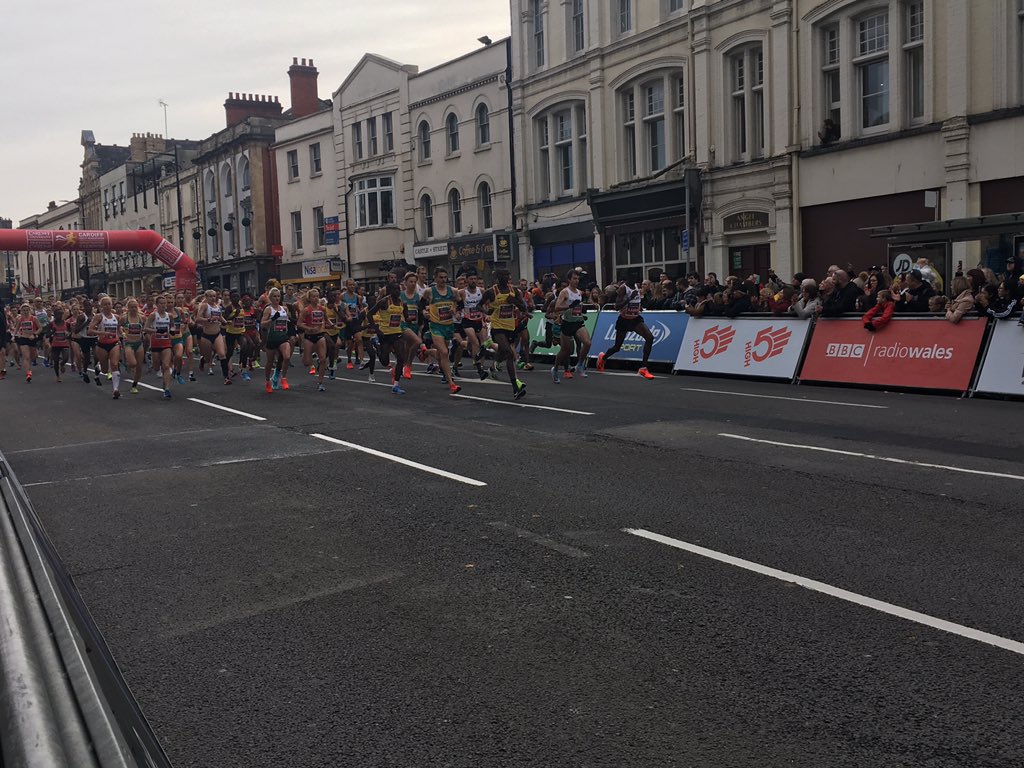 Carmarthen Harriers vests were in amongst the 25,000 runners that followed behind the elite athletes. Here's all their finishing times and our congratulations to you all!
Wendy Price: 1:28:26
Louise Jones-Evans: 1:38:39
Jack Tremlett: 1:15:59
Vince Bailey: 1:32:41
Huw Davies: 1:37:58
Liz Davies: 2:05:43
Gill Edwards: 1:54:39
Kayleigh Bagshaw: 1:40:20
Iwan Davies: 2:12:15
Nicola Bradbridge: 2:39:51
Cerys Davies: 1:59:42
Ceri Davies: 1:54:40
Hayley John: 2:38:17
Wendy Davies: 2:22:45
Saran Nicholas: 2:56:03
Another successful event, showing the world what Cardiff and Wales can offer when it comes to putting on an athletics event.